Winter 2018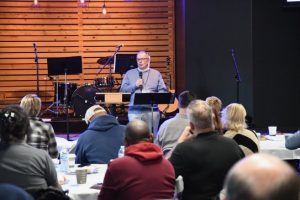 On February 24th, PYCM and CMCA co-sponsored a "Correctional Ministry Matters" Conference held at Coast Hills Church in Aliso Viejo. We had about 100 leaders and volunteers from several correctional ministries around the state. I think the attendee who came the farthest was from the Bay Area. It was encouraging to see trainers with a national presence as plenary speakers and as workshop instructors.
Pastor Bryan from River47 Church in Orange asked me to fill in for him on January 21st while he was away at a meeting in Chicago. I was able to adjust my schedule to be there and began to pray about what to share. At the end of December I was briefly going over Ecclesiastes 3:1-8 with a young man in the Youth Leadership Academy when the Lord began to give me insights on how to teach this passage. The title of my message was "What Time Is It?" and another youth who recently got out of YLA was able to join me.
I was blessed to be able to get a free room at Ayres Inn for a reflection day. At the beginning of another year I really enjoyed being able to get alone with God and reflect on the past and ask him questions about the future. I left the time realizing that the Lord isn't that concerned about my ministry as much as he is about  my own personal fellowship with himself.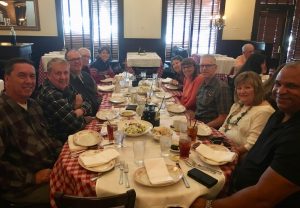 Chaplain Steve and Jan Lowe hosted our annual Christmas Luncheon with the team from Orange County, Chaplain Charlie Corum (front left) from Los Angeles County, and retired Chaplain Jess Frey. Charlie shared that 24 churches had donated 2000 gift bags for every incarcerated youth in the LA probation facilities!
I got to attend the Calvary Chapel Mission's Conference for one day only this year and heard missionary and author Patrick Johnston speak on discipleship. Discipleship is establishing a relationship with another believer to teach them to do what you do and then allowing the Holy Spirit to continue the work. Patrick teaches that we are living in a 6th Great Awakening that has been occurring in Africa, Asia, and South America since 1964. In the 1990's over a hundred million believers were added to the kingdom. He became a missionary in South Africa at age 24 and the mission organization had a policy that you couldn't marry for six years. Patrick wrote the book Operation World and The Church is Bigger Than You Think. At 79 years of age he is still going strong.