Fall 2018
I decided to attend the volunteer appreciation dinner at the Teen Challenge Headquarters in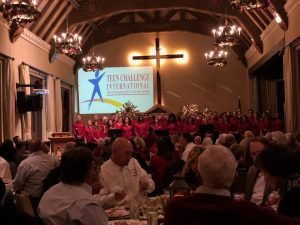 Riverside this year. The meal was better than most restaurants I've been to and at my table was another volunteer who visits men and women in the Orange County Jails who are trying to get into the program. That night we were told that the seven Southern California Centers get 385,000 phone calls from people looking for help each year. Everyone in attendance received a book containing handwritten thank you notes from present and former students in the program along with the recent Christmas CD produced by Teen Challenge.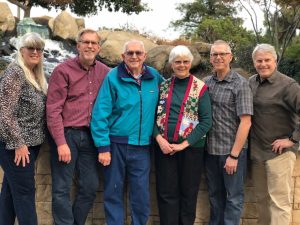 All of my immediate family (except two nieces) was in Turlock to celebrate Thanksgiving and we took the opportunity to get some family photos. There were 21 of us who gathered at my oldest brother's home. Ron and Peggy came the farthest to be there which also gave Peggy the chance to see Covenant Village. My brother lives near the college and so we found a spot on the campus for the photos. We are making a memory book for my parents (dad especially) using this and other photos which will be ready around Christmas.
Erick Quezada was a released youth I worked with a few years ago and saw him go to Bible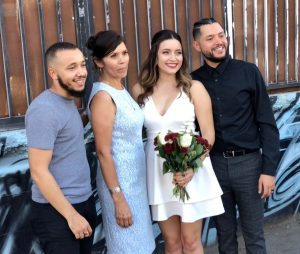 College and has served as a youth pastor at two churches. I spent a lot of time preparing him for marriage but we never knew when that might happen. He met his bride several years ago when he attended Saddleback Church. Pictured above are his bride (Amanda), his mom (Lilia), and his best man (Jevon) who flew over from London to be at the wedding. A friend of our ministries gave me a $240 love gift for Erick because she has been praying for him but didn't know at the time that he was getting married. I gave it to Erick a couple days before the wedding and he told me that he was down to a few dollars in his checking account.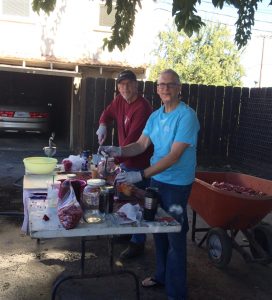 October is pomegranate season in Hughson and I was able to take another visit there to help squeeze juice from the pomegranates on my parents two trees. One of the trees was planted by my grandfather and is over a hundred years old. We picked about 40% of the pomegranates and squeezed 8-9 gallons of juice. This year it was only three of us who did the work, my brother, myself, and Eric Britt. I would say we worked about four hours all together. My sister-in-law and my niece make jelly out of the juice.
On the last Friday of September I held our 20th Annual Retreat at the Youth Guidance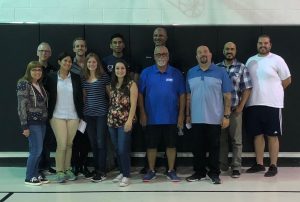 Center. The Lord provided an excellent team of believers to serve for the five hour activity and we had fifteen youth participate. Fifteen was the goal I had prayed for. The theme of the retreat was "Entering Adulthood" and the youth were challenged to evaluate their maturity and to think like men and women in the area of relationships. Attendance at our church services and bible studies has been pretty good at YGC and half of Unit 400 is signed up as Protestant.