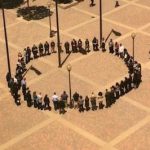 For the sixteenth year in a row, PCM sponsored a National Day of Prayer Gathering in front of Juvenile Hall at noon. I distribute flyers to the believers I know in the various departments and then wait to see who shows up. We had over 50 employees come together to pray for 15 minutes. Since the theme of the NDOP was unity, I spent part of the time leading the group in praying through the parts of the Lord's Prayer. A supervisor on the seventh floor of the court building took this picture and a pastor friend who works with her sent it to me.
Teen Challenge brought everyone together on Good Friday morning for a communion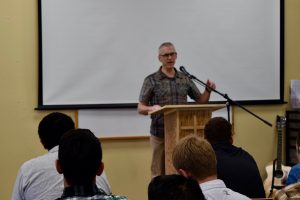 service and to go over the last seven sayings of Christ from the cross. There were seven of us who shared and I was given the saying, "Mother, behold your son……" I felt led to share how the guys in the program may have had people taken out of their lives (like Jesus was taken out of his mom's life) but the Lord will use someone else to fill that need.
Erick Quezada was in Juvenile Hall eight years ago and I was able to meet with him for awhile after his release to see him get off probation and graduate from  Bible College. Today Erick is on staff at Canyon Hills Calvary Chapel. He gave his testimony and did a painting at the Joplin and Youth Guidance Center's Easter Outreaches. Erick started with the picture to the left and proceeded to turn it into what looked like a stained glass window. One of the minors asked if he could take it home with him.
It's been awhile since I have been in a 5th-6th grade Sunday School class but I was recently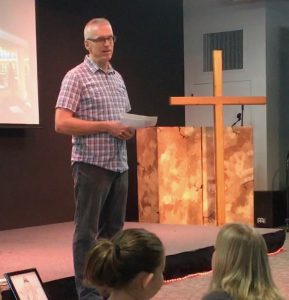 invited to two at St Andrews Presbyterian Church to talk about what I do as their missionary. These were the kids who made Easter Cards that I handed out on Easter Sunday at each of my church services so I was able to thank them in person and tell them that one of the guys at Joplin said, "Tell Grace (the girl that signed his card) that it feels good to be loved like this." I told both of the classes that morning that I didn't know what a chaplain was when I went to church at their age and to be open to how God may want to use their lives.